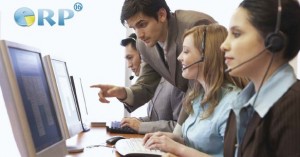 Thanks to innovative technologies we have created, we at VIB.BG Ltd. already offer a service that would help each starting or already running call center company to evolve without the need to purchase necessary equipment.
ERP16 includes most of the necessary hardware and software and the payment is on a monthly basis in order not to aggravate the budget of companies.
Provided modules are included in the service to:

IP telephone exchange (PBX);
Intra-company numbering plan with 100 numbers;
GSM Gateway, required for calls to GSM operators;
SIP Trunk, necessary for calls to landlines;
Recording conversations and listening to them in real time;
Divert incoming calls and voice menus (IVR)

System customer management and business process management (CRM / ERP);

Ability to create additional modules to the software;

System customer management and business process management in turn includes:

Project management
Task Management
Module sharing
Tool offers
Access for customers
Statistics projects

Call Center

Import base
automatic call
Set tasks
Listen to talks
Statistics calls

Оnline Invoicing

Online Invoices Management
Creating proforms
Sending via Email
Reports

Module Staff

Management of salaries
Company Holidays management
hours worked

Рeports

Financial report
Calls Statistics per Agent
Report of sales/purchases/profit
Report for users' actions on the system

Other modules

Integrated Email Client
Email Templates and Document Templates
Document Management System
API module for communicating with other service providers and hardware like POS/electronic scales/cash register and etc.
To find out more, please contact us.