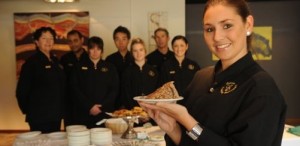 The design allows free operation of the system through any device – PCs, tablets, phones.
Convenient and visualize panel available in object tables.
Name, displacement and control of the masses through the drag and drop function.
Quick access to organized into product categories articles.
Consistency between wort inventory and orders (each time he issued orders from the restaurant automatically take quantities for the manufacture of items from the warehouse). So you always know what the exact quantities of the products they have and receive timely notification in insufficient quantities.
The system can automatically calculate the recommended price of an item when setting the value of the products of which it is created.
You can track all orders made by your staff in real time.
Opportunity to earn and pay only a portion of an account without to close the entire bill.
Sync system between the kitchen and the restaurant, the waiter immediately receive notice of the order ready.